NATHAN RANDALL GREEN: Everyone Universe, Everyone Dust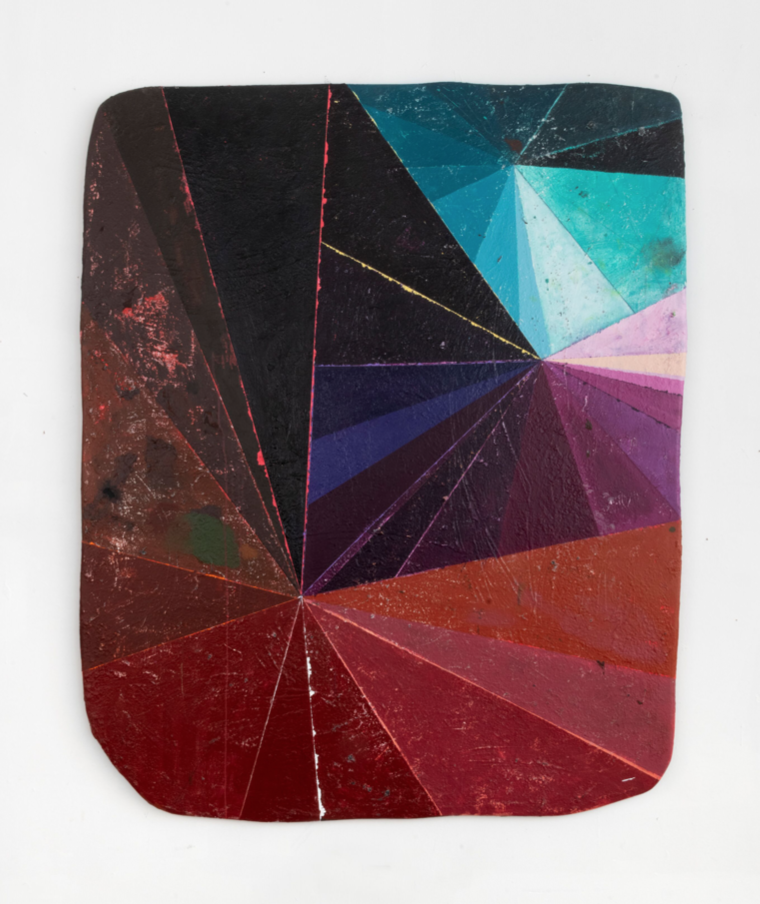 Nathan Randall Green is reuniting with Austin, TX: his latest exhibition Everyone Universe, Everyone Dust is a presentation of paintings, in conjunction with the production of a site specific mural for the Fusebox Festival. The dual project mixes sites, scales and mediums in a spirit of connection and experimentation.
The project's title refers to the artist's working meditation on the story of our cosmos. The paintings begin as imaginary representations of the Inflationary Epoch, the brief moment of vast expansion in the primeval universe. The works are given visual depth by subtle suggestions from diverse interests, like paleolithic rock art, textile design, geologic formations and infographics. Green's works experiment with line, form, color and texture, putting them in dialogue with the rich history of abstraction. His latest large-scale paintings are created on shaped panels that combine both natural organic forms with hard edge, angular compositions. In doing so, he creates works that oscillate between flat planes and sculptural objects. While exploring the formal and structural qualities of abstract painting, Green creates deep, painterly landscapes of graphic information, which speak to the way we measure, chart and map our world.
Green's site-specific mural, Blueshift, will be located in the entry corridor at Fusebox Hub and will premier on Fusebox Eve, Tuesday, April 16. Green is using his distinct hard-edge geometric style with exaggerated perspectives to accentuate the length of the corridor, representing the idea of passing through space. "Blueshift" refers not only to the palette of the mural but also to "Doppler Blueshift," a term used by astronomers to describe the movement of one celestial object toward another, witnessed by the appearance of a blue spectrum of light radiating from its trajectory. Green's treatment of the corridor gives the visual experience of a "blueshift" as viewers traverse from one space to another.
Special thanks to Mark Vera for supporting this exhibition and mural project.
Nathan Randall Green was born in Houston, TX and received his BFA in 2004 from the University of Texas at Austin. He is a founding member and partner of Okay Mountain Gallery and Collective. Nathan has most recently shown his work at Left Field in San Luis Obispo, CA, Morgan Lehman Gallery and Mulherin in New York, Barry Whistler Gallery in Dallas, Art Palace in Houston, Tiger Strikes Asteroid in Philadelphia, and Hus Gallery in London. Nathan has also participated in Artist-In-Residence programs in Connecticut, New York, Vermont, Michigan, Illinois, and Dallas. Nathan lives and works in New York, New York.